We started our business as an electronics repair shop on June 1987. We were involved in the sales, repair, and installation of all electronic equipment. Mainly Televisions, Videos, HI-FI systems and TV antennas. Also Car stereo was a big part of our business but not the main.
As business increased we founded "ANDROS SOUDJIS ELECTRONICS LTD" as a limited company on 7/10/1991.
At the time there was a lot of competition in the television sales and repair business. Also a big increase on the Car Stereo sector . So around 1993 we decided to become specialised in the Car Audio business only.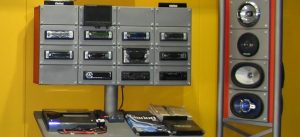 Since 1993 we became official partners and dealers in Limassol for some of the biggest and more famous brands in the industry.
At the time we were the biggest dealer in our area for ALPINE, CLARION, ROCKFORD FOSGATE, MB QUART, BECKER and others.
From time to time our company employed as many as 5 people, technicians and installers. Some of the loudest and some of the best sounding cars were built in our shop. We moved from our small shop located in Makarios Avenue, to a bigger , more spacious showroom, triple the size of the old one.
During the decade 1995-2005 we were the biggest and unquestionable leader in the Car Audio industry in Limassol. Our customer's cars were getting the most trophies in all Car Stereo competitions. Our shop's Demo Car, an old Hillman Imp took part in the 2000 Sound Off competition in Rhodes, Greece and took the very honourable second place in the prestigious Pro Category.
Business declined as trends amongst the young people changed and especially during the 2012-2013 crisis we were forced to shrink our business. So in 2015 we moved to our current shop in the centre of Limassol , at Idaliou street.
During the recent years the Car Stereo business has shifted towards the trend of multimedia. More and more customers are asking to install new Multimedia units in their cars. For this reason we developed strong partnerships with our main suppliers to include in our products all their new Multimedia units. Apple Car Play and Android Auto units from leading companies like Alpine and Kenwood and Car specific OEM Android Units from specialists XTRONS are now available in our showroom.
At the same time we offer our customers professional installations in their cars. We use high quality accessories, wiring and any adaptors needed to provide the best job possible.
Car stereo repairs are also cater for in our fully equipped workshop. No repair big or small, complicated or easy is declined. Using the experience we gathered over the years we try to repair any unit comes to our workshop cheap or expensive. Most car dealerships trust our work by sending to our workshop their repairs.
As a general rule we try to give the best service to our customers. We try to advise them to do the right choice and offer them the best equipment they can buy according to their needs and budget.
For us, customer satisfaction comes first, financial reward comes after.